Product links may contain affiliate links. As an Amazon Associate, I earn from qualifying purchases.
I have a fun and unique recipe for you today! The Slow Cooker Chicken Enchilada Pasta is cheesy, spicy, and unexpectedly delicious. I saw a version of this recipe from The Magical Slow Cooker on Pinterest and just knew that I had to recreate it. Mine is a little less spicy than her version– perfect for kids who can't handle an ounce of spice!
Ingredients for Slow Cooker Chicken Enchilada Pasta
I love a pantry staple recipe, and this is one of them! You'll only need 3 fresh ingredients to make this delicious pasta.
chicken breast
salt
pepper
chili powder
cumin
oregano
red enchilada sauce (I like Las Palmas brand, but you can use your favorite)
can green chiles
pasta (any pasta will work, so use your favorite cut, but I like penne)
cheddar cheese
sour cream (seems weird for pasta but it works, I promise!)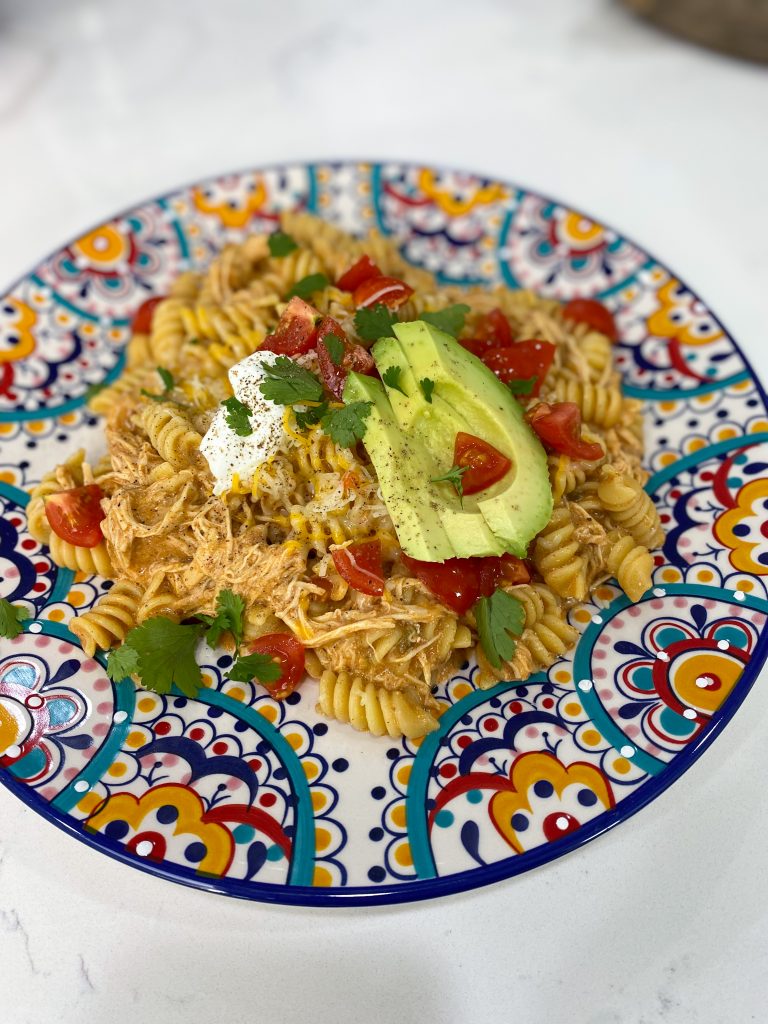 How to Make Slow Cooker Chicken Enchilada Pasta
To your slow cooker (if you don't have one you need one, STAT), add the chicken, seasonings, enchilada sauce, and green chiles. Give that all a good stir and cover. You'll want to cook that on low for 6 hours or on high for 4. Set a timer and walk away!
Once your timer is almost up, cook your pasta according to the package directions. Strain that with my favorite pasta strainer (it's kind of a life saver) and set the pasta aside.
Shred your cooked chicken straight in your slow cooker. You can use two forks like your mom did it, but my favorite way is to use a hand mixer to shred it up super easily. You'll add the pasta, sour cream, and cheese to the slow cooker, and let that all warm up together until the flavors meld and the cheese and sour cream are melted. Serve with your favorite taco toppings on top, if you'd like!
Can I Make this into a Freezer Meal?
You can 100% make this into a freezer meal. All you have to do is add the chicken, seasonings, enchilada sauce, and green chiles to a freezer bag and freeze! When ready to prepare, follow the instructions I've provided in the recipe card below.
I've also learned a lot over my years of making freezer meals.
Use freezer gallon-sized bags. Normal bags tend to rip once frozen.
Use bag holders to make it easier to fill the bags.
If you don't have bag holders, you can place the bag into a large drink pitcher to help hold the bag up.
Write on the label what the recipe is, the date you prepared it, how long to cook it for, if you have to add any ingredients, and what to serve with the meal. This will keep you from pulling out a bag of mystery meat and having no idea what to do with it!
For chicken recipes, place in the fridge overnight so it can thaw.
If you cook from frozen, you can run the bag under hot water for a few seconds to loosen up the food so it is easy to pour out of the bag.
Make sure you take the food out of the plastic bag before cooking! Didn't think I needed to say that but I get asked all the time, haha.
Freezer meals last for about 3 months in the freezer, so make sure you're checking your dates.
Slow Cooker Pasta Recipes
If you're digging this slow cooker pasta recipe, I have a ton more that I love to make! They're so easy, so delicious, and so comforting, especially when the weather is cold.