Jump to Recipe
Product links may contain affiliate links. As an Amazon Associate, I earn from qualifying purchases.
Tender chicken smothered in a flavorful tomato sauce tops toasted buns and is finished off with melty cheese. My Italian Chicken Sandwich is so simple to make and ends up so tasty! If you're sick of all your normal routine dinners and are craving something a little unique, try this recipe.
Ingredients for Italian Chicken Sandwiches
You only need a few ingredients to make an incredibly flavorful tomato sauce, thanks to my secret ingredient: Italian dressing. Adding bottled Italian dressing adds so much flavor to this recipe without having to measure out a ton of extra ingredients.
Italian dressing (I like to use the Olive Garden brand for this recipe, but you can use your favorite brand)
tomato paste
brown sugar
salt
pepper
chicken breasts
canned petite diced tomatoes
Brioche rolls or hamburger buns
shredded mozzarella cheese
How to Make Italian Chicken Sandwiches
Making this recipe is simple. My dump-and-go slow cooker recipes are my favorite because they're easy to prep.
First, add the Italian dressing, tomato paste, brown sugar, and salt and pepper to a small bowl and whisk to combine. Those ingredients might sound a little interesting together, but just trust me. It works!
Next, place the chicken into the slow cooker, along with the can of diced tomatoes and the Italian dressing mixture.
Cover the slow cooker with a lid and cook on LOW for 6-7 hours or HIGH for 4-5 hours, or until the chicken is cooked through. You can test it with a meat thermometer to make sure it is cooked through (make sure it reaches 165 F).
Once the chicken is cooked through shred it up in the slow cooker using two forks, a hand mixer, or a meat chopper (I seriously use this thing multiple times a week).
Next, open up the buns, top them with the mozzarella cheese, and broil them for about 2 minutes, or until the cheese is melted and the buns are golden.
Ladle the shredded chicken with a slotted spoon onto the buns, top with another bun, and enjoy! Serve this Italian Chicken Sandwich with a side salad or a side of steamed vegetables for a complete meal.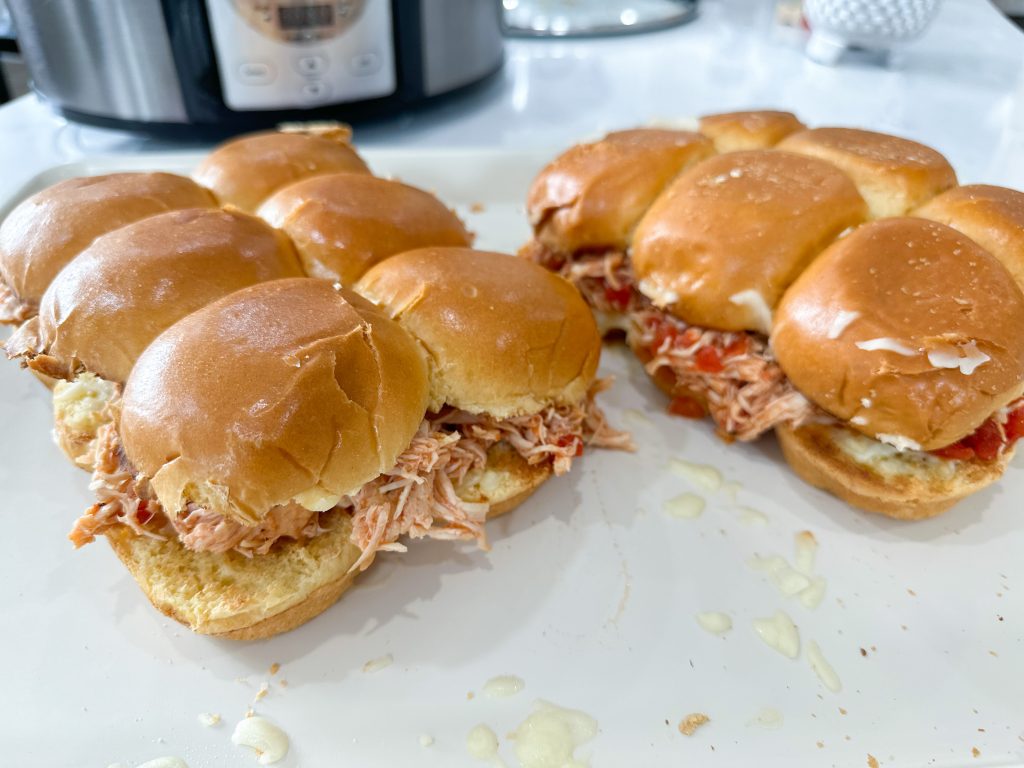 More Slow Cooker Recipes
Slow Cooker Vegetarian Lasagna