Product links may contain affiliate links. As an Amazon Associate, I earn from qualifying purchases.
Cake Mix Monster Cookies are chock full of everything you love: peanut butter, chocolate chips, oats, and M&Ms! Plus, they're made with a cake mix so they're super simple to make.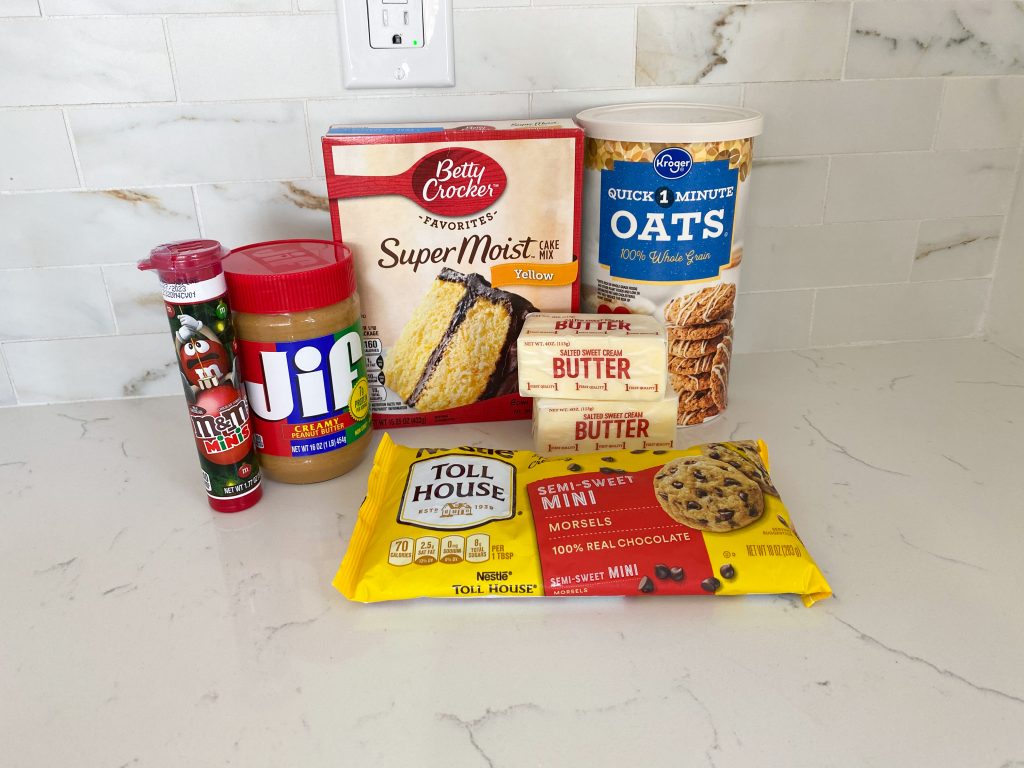 Cake Mix Monster Cookies Ingredients
The beauty of these monster cookies is they are super versatile. You can swap out the chocolate chips and candies for anything: peanut butter chips, butterscotch chips, candy bar pieces, or really anything else that you're craving. THey'll be amazing no matter what sweet thing you put in 'em!
box yellow cake mix (just use the brand that you normally buy to make a cake)
brown sugar
butter
peanut butter
water
egg
mini m&ms (you can use regular sized ones too, but I like the texture of mini M&Ms)
mini chocolate chips
quick oats
How to Make Cake Mix Monster Cookies
These cake mix monster cookies are so easy to make. I like using cake mix in my cookies as a shortcut. I don't have to measure out all-purpose flour, salt, sugar, or any rising agent: it's all already in there!
To make these cookies, you'll start by preheating your oven to 350°F.
You can make your dough in a stand mixer(I am in love with my KitchenAid) or use a large bowl and a hand mixer if you like. You could also use a spatula or wooden spoon, but you're trying to make cookies, not work out, lol.
Anyway, combine the cake mix, brown sugar, butter, peanut butter, water, and egg in your bowl and mix until well combined. Stir in the mini M&Ms, chocolate chips, and oats, and combine gently.
Prepare your cookie sheet by spraying it with nonstick spray, or lining it with parchment paper, and scoop your cookie dough onto the sheet, leaving 2-3 inches in between each cookie. Make for 12 to 13 minutes or until set. let the cookies cool on the pan for just two minutes and then transfer them to a cooling rack to let them cool. Devour!!!
My Favorite Cookie Recipes
I'm a huge cookie fan, so I've got quite a few of them on my site! A few of my favorites include: