Product links may contain affiliate links. As an Amazon Associate, I earn from qualifying purchases.
Tender seasoned chicken is enveloped in pastry and smothered with rich and creamy sun-dried tomato sauce. This Chicken Wrapped in Crescent Rolls is easy, delicious, and feels fancy!
Ingredients for Chicken Wrapped in Crescent Rolls
chicken breast
paprika
Italian seasoning
salt and pepper
can crescent dough sheet
heavy cream
sun-dried tomatoes
How to Make Chicken Wrapped in Crescent Rolls
Step 1: Preheat the oven to 375℉, then get to work on the chicken. Season the chicken on both sides with the paprika, 1 teaspoon of the Italian seasoning and 1/4 teaspoon of salt and pepper.
Step 2: Unroll the crescent dough into a flat sheet, then cut the dough into thin strips. Wrap each piece of chicken in a strip of dough.
Step 3: Place the wrapped chicken in a greased 9×13 baking dish and bake for 30 minutes, or until the chicken is cooked through.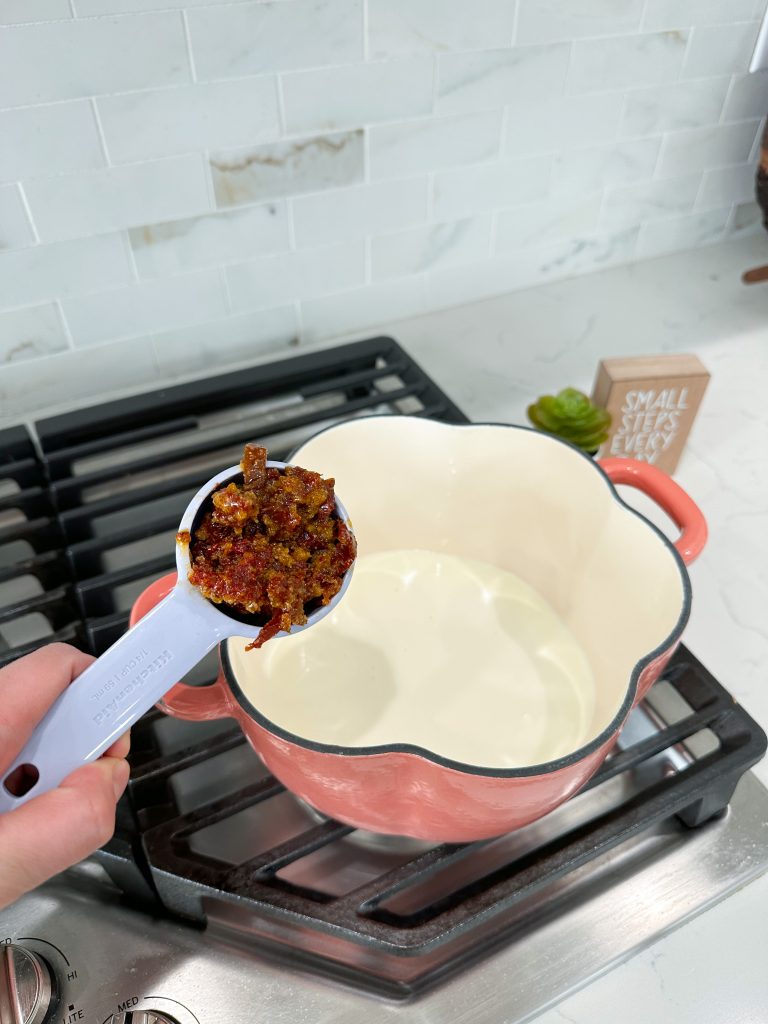 Step 4: While the chicken is in the oven, make the sauce. Bring the heavy cream, sun-dried tomatoes, parmesan, and seasonings to a simmer in a heavy-bottom pot. Whisk often and cook for about 4 minutes, or until the sauce has thickened a bit and the cheese is melted.
Step 5: Serve the chicken drizzled with some of the yummy sauce. Enjoy!
Recipe Notes
This recipe calls for crescent roll dough sheets, but if you can't find that, you can use a normal can of crescent rolls. When you unroll them, just pinch the seams together to make a sheet.
You could also use puff pastry instead of crescent roll dough.
It might be hard to tell if the chicken is done. Use a meat thermometer and take the internal temperature. When it reaches at least 165, it's done.
If you have leftovers, heat the chicken back up in the oven or air fryer.
More Chicken Recipes
Tomato Honey Pasta with Chicken
Slow Cooker Pineapple BBQ Chicken
Sheet Pan Balsamic Chicken with Potatoes, Brussels Sprouts, and Bacon