Product links may contain affiliate links. As an Amazon Associate, I earn from qualifying purchases.
Jump to Recipe
Make your favorite take-out dish at home for a fraction of the cost! Slow Cooker Chicken Coconut Curry is creamy, flavorful, and oh-so-delicious served with fluffy naan bread. It's all made in the slow cooker and takes only a few minutes to prep. Your crew is going to be so impressed that you made this one at home.
Ingredients for Slow Cooker Chicken Coconut Curry
Making tasty slow cooker coconut curry at home doesn't take a million ingredients. You probably already have most of the ingredients in your pantry already. Next time you're at the store, pick up some canned coconut milk and yellow curry powder and you're set!
coconut milk (any brand of full-fat coconut milk will be delicious)
red onion
minced garlic
salt
pepper
dried basil
yellow curry powder (grab some on Amazon for a couple dollars if you don't have any!)
chili powder
cumin
chicken breast or tenderloins
water
cornstarch
Naan bread, cilantro, and rice for serving
How to Make Slow Cooker Chicken Coconut Curry
Making this dish is so easy. Just a few minutes of hands-on time is all it takes to make decadent coconut curry! This curry simmers away all day in the slow cooker and makes your house smell amazing. Come dinner time, all you have to do is cook some rice and serve it all up.
First, add the coconut milk, onion, garlic, and seasonings to the slow cooker (here's a great budget-friendly option if you need a new one!) and give it a good stir, then add the chicken. Cook on LOW for 6-7 hours.

Once cooked, take out the chicken and shred it up. Whisk the cornstarch and water together in a small bowl to make a slurry.

Add the shredded chicken and the cornstarch slurry into the slow cooker. Cook on LOW for an additional 20 to 30 minutes to thicken the sauce. Cook some rice while the curry is thickening up.
Serve the chicken and curry sauce over cooked white rice, sprinkle with cilantro, and serve naan bread on the side. Devour!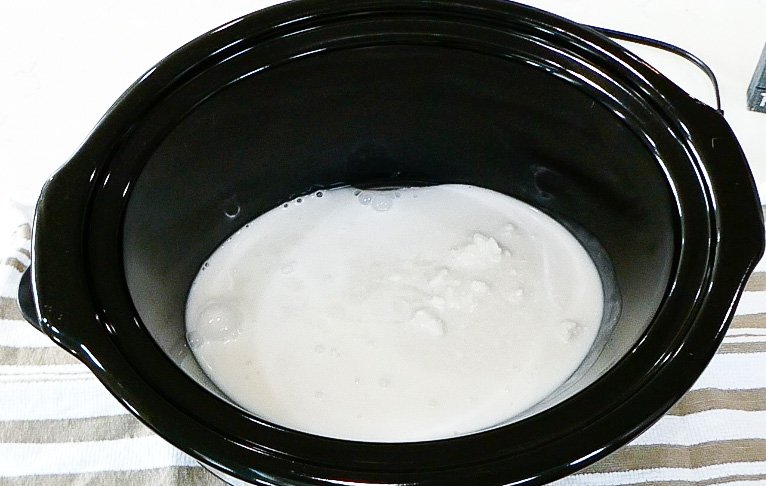 More Slow Cooker Asian-Inspired Recipes
I love getting takeout, but it can get expensive really quickly. I love to make easy and approachable Asian-inspired dishes at home.
Slow Cooker Honey Garlic Chicken
Sesame Chicken in the Slow Cooker