Product links may contain affiliate links. As an Amazon Associate, I earn from qualifying purchases.
Jump to Recipe
I love stuffing. I know some people could take it or leave it at Thanksgiving, but I absolutely love it. And I don't understand what about it makes people think they can only eat it at Thanksgiving. I want to end that stigma. Stuffing is for any time! As of right now I, Julia Pacheco, declare stuffing an any time food. To celebrate this important day, I'm making Chicken Stuffing Casserole with Zucchini. It's creamy, savory, carb-y and totally delicious!
Chicken Stuffing Casserole Ingredients
For this recipe, I use Stove Top stuffing mix, which is an easy and inexpensive start to your meal. It's already seasoned a bit, so I add minimal seasonings and still end up with a deliciously flavorful dish. In this recipe, I make my own cream of chicken soup, but if you want, you can use a 10 oz can of cream of chicken soup instead. That makes this recipe even easier.
For this recipe, you'll need:
butter
all-purpose flour
chicken broth
milk
salt and pepper
zucchini
yellow onion
Stove Top Savory Herbs Stuffing mix
melted butter
shredded rotisserie chicken (you could also cook your own chicken and shred it to keep costs low)
sour cream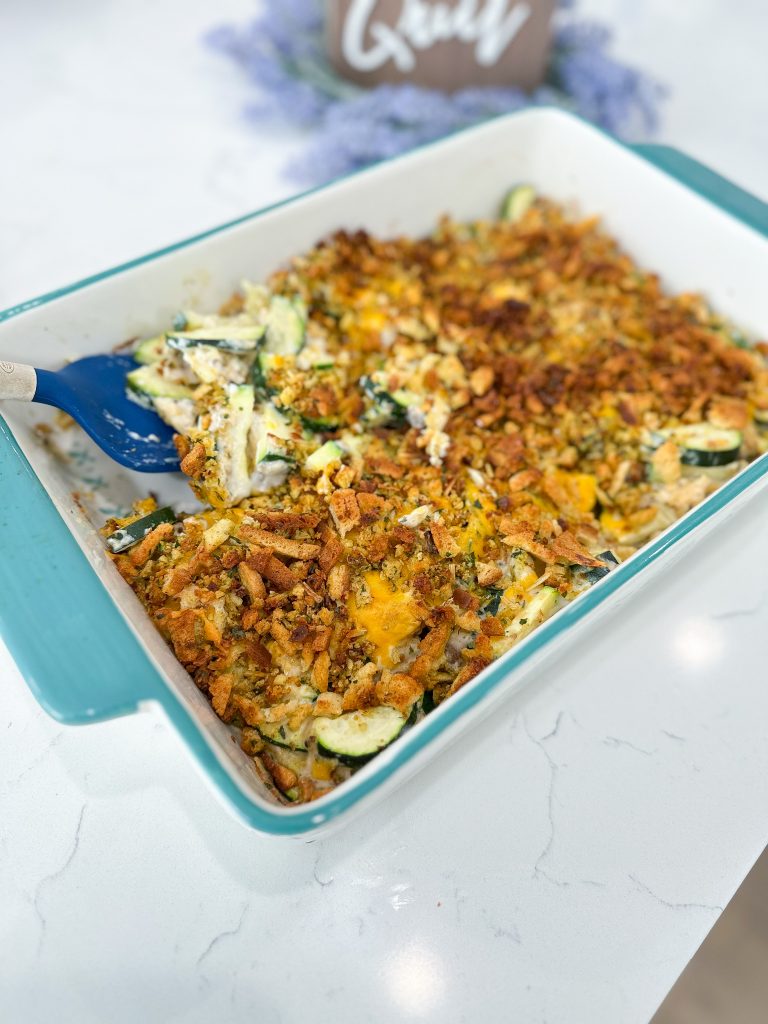 How to Make Chicken Stuffing Casserole
Making this Chicken Stuffing Casserole is not hard, but if you want to make it even easier, you can use a 10 oz can of cream of chicken soup instead of making the creamy sauce. But if you have all the ingredients and want to try it, it's super simple to make too.
Make the creamy sauce. Over the stove, melt the butter in a large skillet (these are my fav pots and pans) and whisk in the flour. Let that cook until it comes to a golden color. It should look like a thick paste. Slowly whisk in the broth and the milk and stir well. The key is to add it super slowly so there aren't any lumps. If it is too thick you can use some water to thin it out.
Prepare the stuffing. Combine the stuffing mix and 4 tablespoons of melted butter in a large bowl. Take a big handful of the stuffing and set it to the side (you'll use that for topping later). To the large bowl, add the creamy sauce (or the can of cream of chicken soup), chicken, veggies, sour cream, and seasonings and stir well to coat evenly.
Bake. Pour the mixture into a greased 9×13 baking dish (these are my new favorite baking dishes) and top with the reserved stuffing. Bake for 40-45 minutes. Serve as a main dish with a side salad or on its own. Enjoy!
More Chicken Recipes
If you're like me, you get bored with plain old chicken recipes. I like to add in some fun and new recipes into the rotation to keep things exciting. I think you'll love these chicken recipes!