Product links may contain affiliate links. As an Amazon Associate, I earn from qualifying purchases.
Jump to Recipe
Pickle lovers, unite! I have the ultimate pickle lover's dream pasta salad to share with you today. Dill Pickle Pasta Salad is bright, crunchy, and totally unexpected. It's my new favorite pasta salad of all time! The dressing is creamy and tangy and pairs perfectly with the crunchy pickles. Make this for your next cookout and everyone will love it.
Ingredients for Dill Pickle Pasta Salad
Shell pasta: Use any type of pasta that you like. Shells are fun because they hold little bits of the dressing and other salad ingredients like little flavor pockets.
Cheddar cheese: For this recipe, I like to use cubed cheese, so I'll buy a big block of cheddar and chop it up into little cubes.
Fresh dill: Adding fresh dill really enhances the pickle flavor in this recipe. Using fresh dill is best, but in a pinch you can sub for dried dill and it will still turn out great.
Dill pickles: If you're a pickle expert, use your favorite brand of dill pickles. I wouldn't recommend using bread and butter or spicy pickles for this recipe.
Onion: Putting raw onion in pasta salad might be a little much for people, so it is optional, but I think it is delicious. You could use a red onion or a yellow onion.
Mayonnaise, sour cream, and pickle juice: These three ingredients combine to make the most punchy and delicious dressing.
Salt, pepper, garlic powder, and cayenne pepper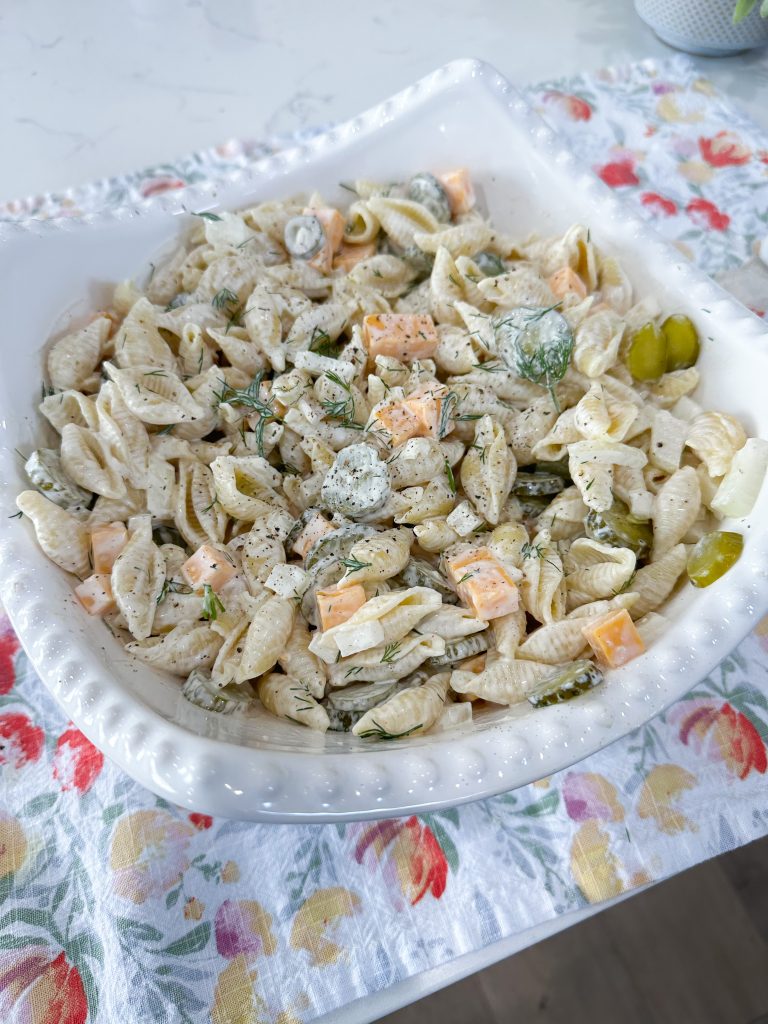 Pasta Salad Tips
Making pasta salad is pretty simple, but I've found a couple of things that make it even easier. Here are my best tips for making pasta salad.
Salt the pasta water for maximum pasta salad flavor.
Rinse the pasta in cold water immediately after it is done cooking. I like to use this over the sink strainer to help it cool down faster. Running your pasta under cold water helps it not to overcook. I like to make sure that the pasta is totally cool before I add the other ingredients so I don't have to chill it in the fridge for hours before I want to serve it. No one likes a warm pasta salad!
Store in the fridge if you're not serving it immediately. During the summer, pasta salad can spoil pretty quickly without even realizing it, especially if it has dairy and other perishable ingredients.
Make the dressing in a separate bowl first, and then add it to a big bowl with all of the other ingredients. If you don't whisk the dressing together first, it might be hard to distribute all of the seasonings and other dressing ingredients throughout the pasta salad.
Serve it in a pretty bowl like this one.
More Pasta Salad Recipes
Pepperoni Mozzarella Pasta Salad