Product links may contain affiliate links. As an Amazon Associate, I earn from qualifying purchases.
Jump to Recipe
Cooking on a budget can be really hard. I get it. Somehow you're through your grocery budget already and you have no food in the house. I've been there! Whenever I need to make a grocery run when I have a teeny tiny budget, I turn to a few of my favorite budget-friendly recipes. This cheap Potato Soup recipe is so easy and delicious and costs just a few dollars to make.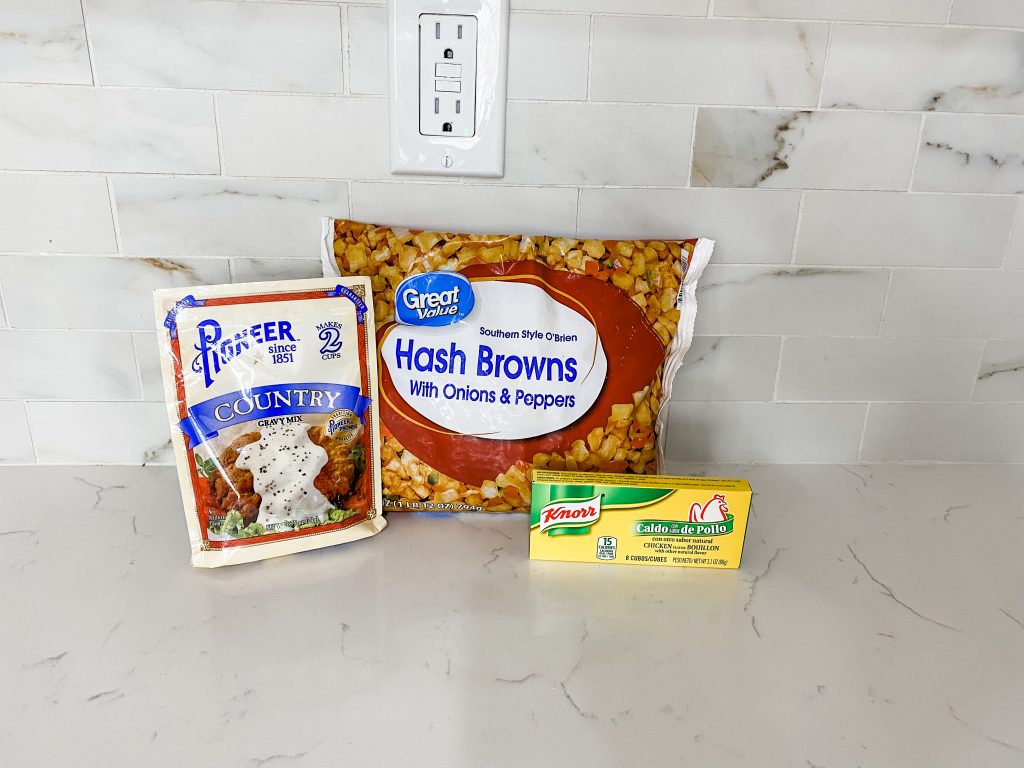 Cheap Potato Soup Recipe Ingredients
This recipe takes only 3 ingredients. Yes, you read that right. Only three ingredients!
Hashbrowns with peppers and onions: Often called O'Brien hashbrowns. I like this bag because of the added flavor from the peppers and onions for a low cost.
packet country gravy powder mix: you can use what you find at your local grocery store or this one from Amazon
chicken broth: you can use canned chicken broth, bullion, or homemade chicken stock.
You can also add some toppings to the soup if you'd like. They're definitely not needed but add a lot! Some potato soup toppings include:
crumbled bacon
sour cream
green onions
shredded cheese
salt + pepper
How to Make Potato Soup
We love a cheap meal, but we love an easy and cheap meal even more. This soup is so simple and easy to make and is so delicious. It only takes 3 ingredients and can be put together in 20 minutes. Sounds almost too good to be true, right?
All you have to do to make this soup is follow 3 simple steps.
Step 1: Dump
First, add all of the ingredients into a large pot (here are my favorite budget pots and pans!). Yep, just dump them all in. Set your pan over medium-high heat and stir it up.
Step 2: Simmer
Bring everything to a boil, then reduce to a simmer for around 15 minutes. Cook until the soup reaches the consistency you like. If you want a thicker soup, this will take a bit longer.
Step 3: Serve
Ladle the soup into bowls and serve with your favorite potato soup toppings like crumbled bacon, shredded cheddar cheese, sour cream, or green onions!
Easy and Cheap Meals
If you're looking for more easy and cheap meals, I've got you! Here are a few of my favorites on my site.
If you want even more inspiration, check out my budget meal videos on my channel!