Product links may contain affiliate links. As an Amazon Associate, I earn from qualifying purchases.
Jump to Recipe
These Stuffed Ham and Cheese Biscuits are little portable pockets of goodness that are perfect for breakfast or for a quick lunch. Savory ham and melty cheese is enveloped by buttery, seasoned pastry for a perfect little pocket of deliciousness.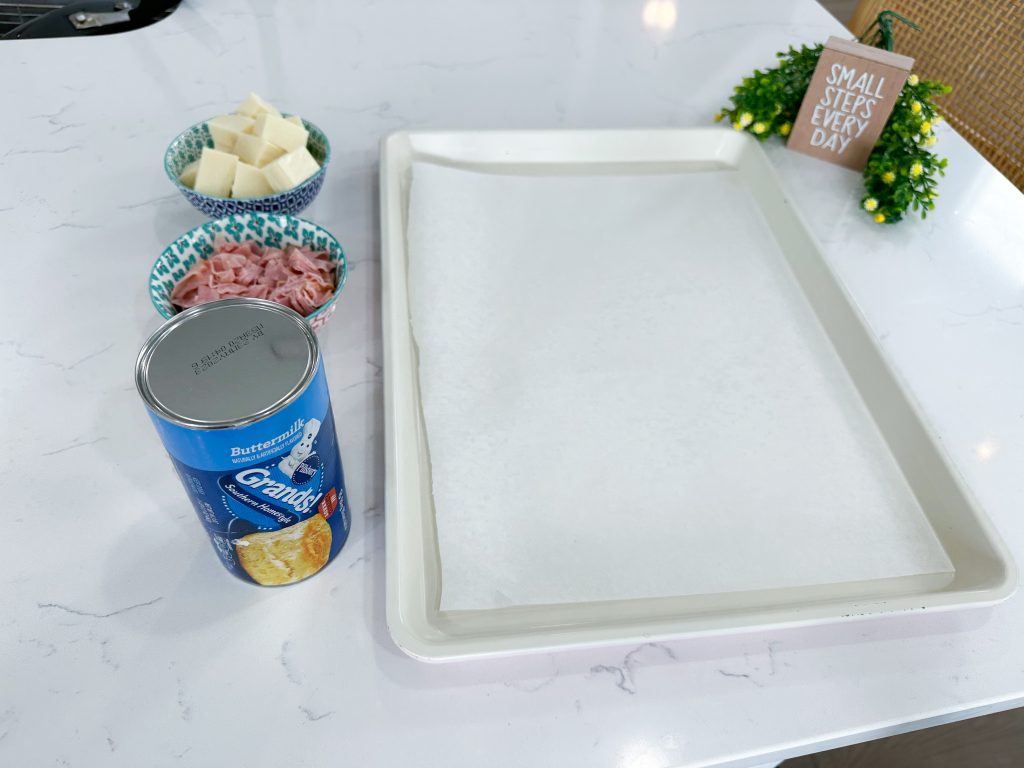 Ingredients for Ham and Cheese Biscuits
Grab a can of biscuits from the grocery store and make these. You probably already have the rest of the ingredients in the fridge already.
refrigerated biscuits
deli ham
mozzarella cheese
melted butter
onion powder
garlic powder
Italian seasoning
paprika
pepper
How to Make Ham and Cheese Biscuits
These biscuits are so easy to make. First, separate the biscuits from the tube and place them onto a sheet pan (I absolutely love my white and pink sheet pan). Stretch them out a little using your fingers or a rolling pin.
Place a little ham and cheese in the center of each of the biscuits and pinch the sides of the biscuit closed to form a ball. Place seam side down on the sheet pan so they don't burst open when baking. Repeat for all of the biscuits.

Mix together the water and seasonings in a small bowl and brush this mixture over the top of the biscuits.
Bake for 16-18 minutes, or until golden brown. Let cool slightly before enjoying! I like to serve these for breakfast or lunch because they're so quick and easy.
Recipe Notes
Use any brand of refrigerated biscuit dough that you like. I like to use Pillsbury Grands because they are super buttery and puff up really nicely.
Use any sliced deli meat that you like. Turkey would be great if you're not a fan of ham. You could also use cooked bacon to make a more breakfast-y version.
Serve these with honey mustard or another of your favorite dipping sauces.
Make this recipe for breakfast or a quick and easy lunch. You can even prepare them in advance. Bake as normal then store in the refrigerator or freezer. Throw them in the microwave to warm them up a bit.
More Biscuit Recipes
Slow Cooker Ham and Biscuit Casserole