Product links may contain affiliate links. As an Amazon Associate, I earn from qualifying purchases.
Jump to Recipe
Deviled Egg Pasta Salad is a crossover of two of my favorite side dishes. Creamy deviled egg filling envelops pasta for a delightfully flavorful side dish. This will be your new go-to for your neighborhood potluck or holiday BBQ.
Ingredients for Deviled Egg Pasta Salad
Hard-boiled eggs: you can cook these however you like. I used the Instant Pot.
Rotini pasta: You could also use bowties, penne, or shells.
Yellow mustard, minced garlic, mayonnaise, white vinegar, salt and pepper, and paprika: All of these ingredients are mixed with the egg yolks to make a yummy and creamy deviled egg filling-type dressing. It's delicious.
Red or yellow onion and green onion: The onion adds a wonderful crunch that differs from the soft texture of the rest of the salad. The green onion is a delicious garnish.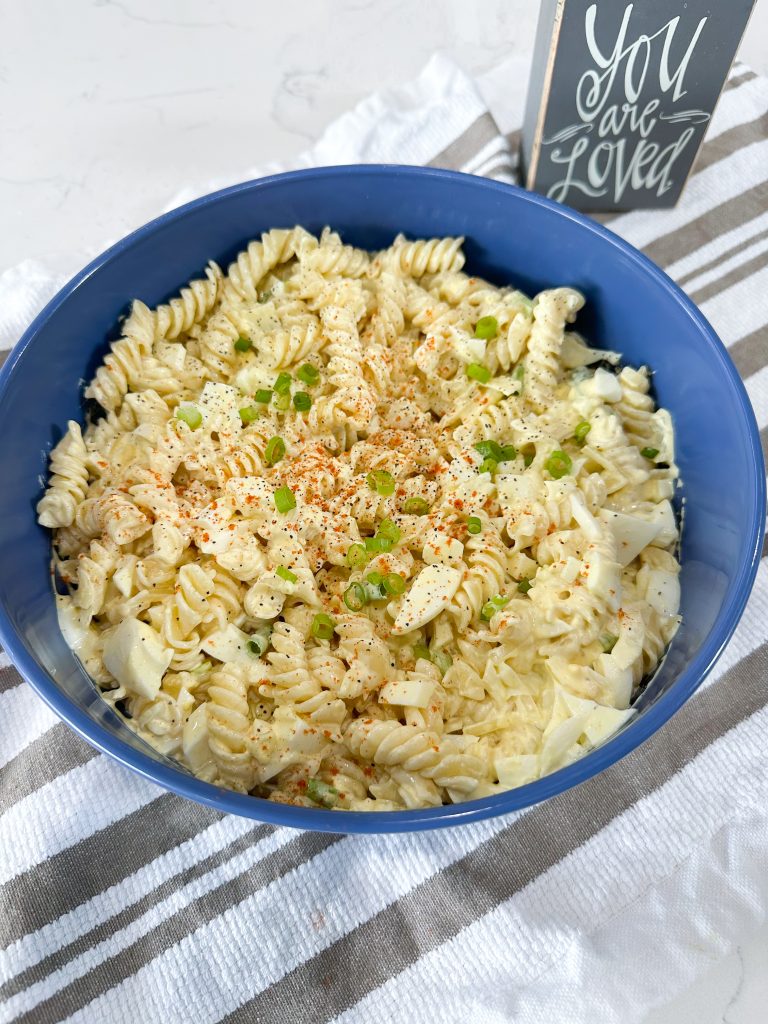 How to Make Deviled Egg Pasta Salad
Making this salad is not hard, but it does require a few steps.
First, hard boil the eggs any way you like. I like to use the Instant Pot, but you could boil them over the stove as well. Bonus tip: put the eggs in a bowl of ice water as soon as they're done cooking. The shells will come off easier.
Separate the whites from the yolks and add the yolks to a small bowl. Mash them with a fork until creamy. Add the yellow mustard, garlic, mayonnaise, vinegar, salt, pepper, paprika, and combine well. Set the bowl to the side.
Cook the pasta according to the package instructions. Rinse the pasta in cold water immediately after it is done cooking. I like to use this over the sink strainer to rinse it easily. Running your pasta under cold water helps it to cool down really fast.
Add the pasta, chopped egg whites, egg yolk mixture, and onions to a large bowl and combine well. If you're not serving this right away, store it in the fridge until you're ready to serve.
More Pasta Salad Recipes