Product links may contain affiliate links. As an Amazon Associate, I earn from qualifying purchases.
Jump to Recipe
Italian Grinder Pasta Salad takes all of the ingredients of the delicious Italian sub that seems to be everywhere on the internet. Three kinds of meat, banana peppers, red onion, and iceberg lettuce make this pasta salad a deliciously deconstructed version of your very favorite sandwich.
Ingredients for Italian Grinder Pasta Salad
Ditalini pasta: Any pasta is fine, but this is my favorite.
Pepperoni, salami, and deli ham: Using good quality meat is important here.
Mozzarella cheese and grated Parmesan: I got a block of mozzarella cheese and cubed it, but you could also use little fresh mozzarella pearls too. For the Parmesan I used the shaker you get from the pasta aisle.
Red onion, cherry tomatoes, and iceberg lettuce: All your favorite sandwich toppings make this pasta salad unique and delicious.
Banana peppers and juice from the jar: This is the secret ingredient to the whole salad. Banana peppers add an amazing punch of flavor that can't be found anywhere else.
Mayonnaise, red wine vinegar, minced garlic, Italian seasoning, and salt and pepper: Makes the most delicious creamy Italian dressing.
Tips for Making Pasta Salad
Rinse the pasta in cold water immediately after it is done cooking. I like to use this over the sink strainer to help it cool down faster. Run your pasta under cold water after you strain it so you don't overcook it. The cold water will stop the cooking process and help it cool down faster as well. I like to make sure that the pasta is totally cool before I add the other ingredients so I don't have to chill it in the fridge for hours before I want to serve it.
If you're not serving your pasta salad immediately, store in the fridge. You might not think of pasta salad as something that can spoil easily, but it can, especially when it's hot out.
Whisk together the dressing in a separate bowl. If you don't whisk the dressing together first, it might be hard to distribute all of the seasonings and other dressing ingredients throughout the pasta salad.
Serve it in a pretty bowl like this one.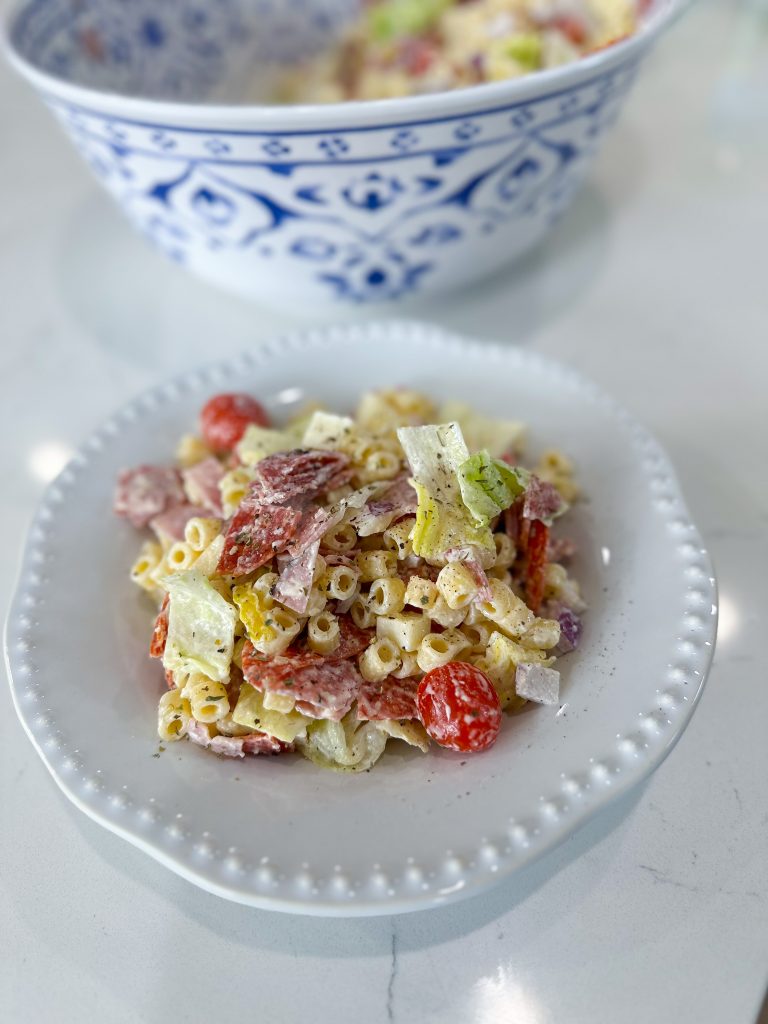 More Pasta Salad Recipes
Pepperoni Mozzarella Pasta Salad